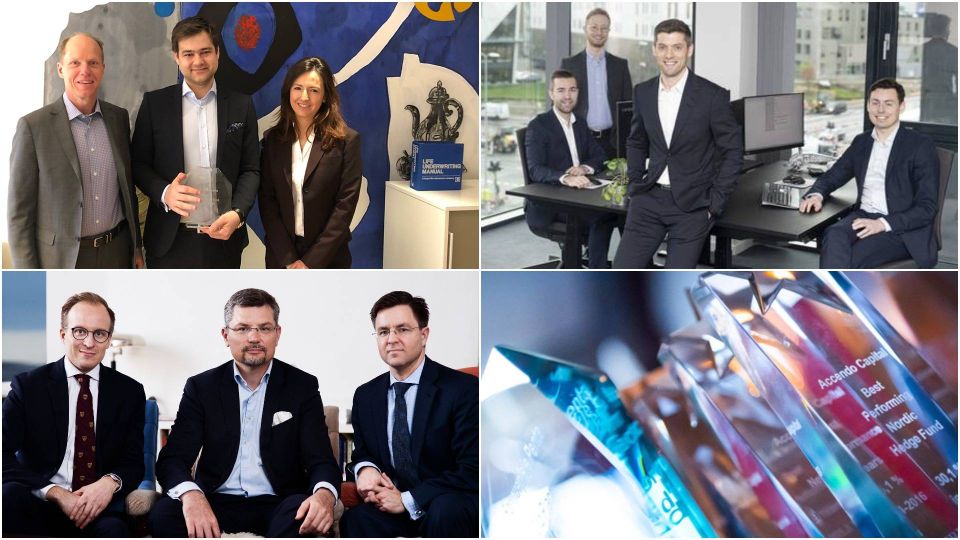 The 2019 Nordic Hedge Awards, which were given out yesterday, truly show how quickly Mr. Market's mood can turn from sweet to sour.
While 14 out of 15 of the funds in the five categories managed to generate a positive return in 2019 as a whole, only two of the 15 funds have managed this in Q1 2020.
The award for best Nordic hedge fund went to Ress Life Investment, which invests in the secondary market for US life insurance policies and had a net return of 8.0 percent in 2019.
"We are thrilled about winning Best Nordic Hedge Fund 2019. Even during a difficult Q1 2020, our return is positive, which proves once again that our strategy is truly uncorrelated," Jonas Mårtenson, the founder of Resscapital, writes to AMWatch.
"The strategy has remained the same since 2011: to selectively purchase US life insurance policies. The strategy offers both low volatility and returns that are uncorrelated with other major asset classes. Our investor base is global and we are grateful that our institutional investors, such as Volvo Pension Fund, have been investing with us for many years," he adds.
Mårtenson expects that Ress Life Investments will achieve its target net return of 7-8 percent in US dollars during 2020. The life insurance portfolio is diversified and policies pay out regularly. Policies are issued by around 50 highly-rated US insurance companies, he notes.
"We do not expect that the market we invest in will come under pressure during the year, since the value of the assets does not depend on the business cycle. The probability of a negative return is therefore low. We expect increased investor interest in our fund, as over the last 5 years we have shown that we can deliver truly uncorrelated returns with a low risk," Mårtenson highlights.
Equity hedge funds account for more than one third of the Nordic hedge fund industry, according to HedgeNordic.
The Stockholm-based long/short equity fund Rhenman Healthcare Equity, which focuses on the healthcare sector, won the equity hedge fund award for the fifth time in the past eight years. It generated a return of 40.12 percent in 2019.
In 2020, however, the fund is down 20.94 percent after dropping by 14.76 percent in March.
At Accendo Capital, which generated a 45.57 percent return in 2019, the fund was down by 15.98 percent after Q1.
"2019 seems like light years away now that we have been so focussed on being close to our portfolio companies during these unprecedented times – but it is definitely nice to be recognized by the HedgeNordic Awards for the achievements and work done in previous years," Elise Auer, director of investor relations at Accendo Capita, writes to AMWatch.
Accendo Capital invests in small cap companies based in Northern Europe that are either driving or benefiting from technological innovation. The fund is managed by Henri Österlund, founding partner, and Mark Shay, senior partner.
"As active owners, it is a great advantage to have a good influence and we have been actively in touch with all of our portfolio companies with ad hoc board meetings and calls with management teams. More time indoors means more video games played and a bigger appreciation for a strong internet connection, and we need to give seniors the chance to stay safe in their own homes – all of which are themes in our portfolio," Auer notes.
The strategy has been running for over 12 years, and Accendo Capital's experience of investing over a number of crisis periods is that companies tend to be more receptive to new ideas when the paradigm shifts, giving the asset manager the opportunity to help their portfolio companies reshape their paths.
"So for some businesses and potential new investments, it is not only the valuations that are looking attractive but also the willingness to bring the company to the next level. Markets are continuing to see unprecedented volatility but we have been able to bounce back quickly from the initial indiscriminate selloff and the fund is in positive territory for 2020 performance as of April 23," Auer writes.
The number of Nordic funds of hedge funds has declined in recent years, from 31 at the beginning of of 2015 to just 10 in 2020, according to HedgeNordic.
The 2019 fund of hedge funds winner is Atlant Multi-Strategy, which invests in Swedish Atlant Fonder's own hedge funds.
"The extended fund offering through the acquisition of Pacific Fonder and the crown of the "Best Nordic Fund of Hedge Funds" of 2019 are clear indications that Atlant Fonder is on the right path to becoming an attractive one-stop shop for hedge fund investors in Sweden. "We continue to work hard to be one of Sweden's leading players in alternative investments," Michael Ekelund, Atlant Fonder's CEO, told HedgeNordic.
After Q1, however, all the three finalists in this category delivered negative returns.
Nordic CTAs generated relatively strong returns in 2019 after experiencing their worst year on record in 2018, according to HedgeNordic.
The winner of the "Best Nordic CTA" award category is IPM Systematic Currency Fund, a vehicle that trades liquid instruments in developed and emerging market currencies based on proprietary investment models.
In contrast, the Sheperd Energy Portfolio fund, which invests in future contracts on the Nordic power markets, ended 2019 in negative territory.
"The trading year 2019 for Shepherd Energy Portfolio was a rather difficult one, with a lot of sharp price movements in an overall sideways market, as well as high uncertainty regarding the price picture for continental power due to the Brexit issue and high volatility in carbon emission rights," portfolio managers Arne Österlind and Andreas Edlund said at the beginning of 2020, according to HedgeNordic.
The energy fund, however, has managed to generate a positive return in all of the first three months of 2020.
The number of active fixed income hedge funds in the Nordics has increased from 23 at the beginning of 2015 to 31 funds now, according to HedgeNordic.
The two 2019 winners are the Asgard funds, which are managed by Copenhagen-based Moma Advisors, which have seen their winning funds face a troubled Q1 in the wake of corona.
While its credit fund managed to generate a 28.64 percent return in 2019, the same fund was down 30.87 percent after Q1.
AMWatch asked Moma Advisors whether a 2019 award calls for celebration when you consider the developments in 2020 and the fact that one of their funds is down by 31 percent after Q1. The company referred to comments in this HedgeNordic article.
"Even though 2019 – especially after the events in 2020 – seems somewhat distant now, we think that these awards have a role to play, especially as they can help investors pick the winners from the losers over time," Birger Durhuus, the CEO of Moma Advisors, told the media.
Danish asset manager Formuepleje has been under scrutiny following Q1, when several of its funds experienced heavy losses. While its hedge fund Penta managed to generate a 34.37 percent return in 2019, the fund is down by 29.46 percent after Q1.
Formuepleje CEO Niels B. Thuesen recently told the Danish media that it should not surprise clients that Formuepleje's products drop more sharply than the market during a downturn, as they also rise more rapidly during good times. 2019 and 2020 are a testament to this.
In contrast, another Danish asset manager, in the form of Formue Nord Markedsneutral (Market neutral, ed.), has managed to generate a positive return in Q1 and was up by 6.82 percent after the first quarter.
"We are continually short on the market and long in volatility, so we are covered when the market drops as it did in March. We do everything we can to ensure that we have a toolbox of market-covering instruments, which makes our portfolio market neutral. Of course, this means that the hedge was expensive in 2019, but it gave us income in 2018, where we generated a 13.6 percent net return," the Aalborg-based asset manager's CIO Rasmus Viggers writes AMWatch.
"In other words, we are just a fund where the primary goal is to deliver uncorrelated returns for traditional asset classes. We have delivered on that goal with zero correlation to the equity market for the past 4 to 5 years and had a yearly net return of 10 percent and a Sharpe Ratio of over 1," he adds.
Formue Nord Markedsneutral has a +9 percent year to date net return, according to Viggers.