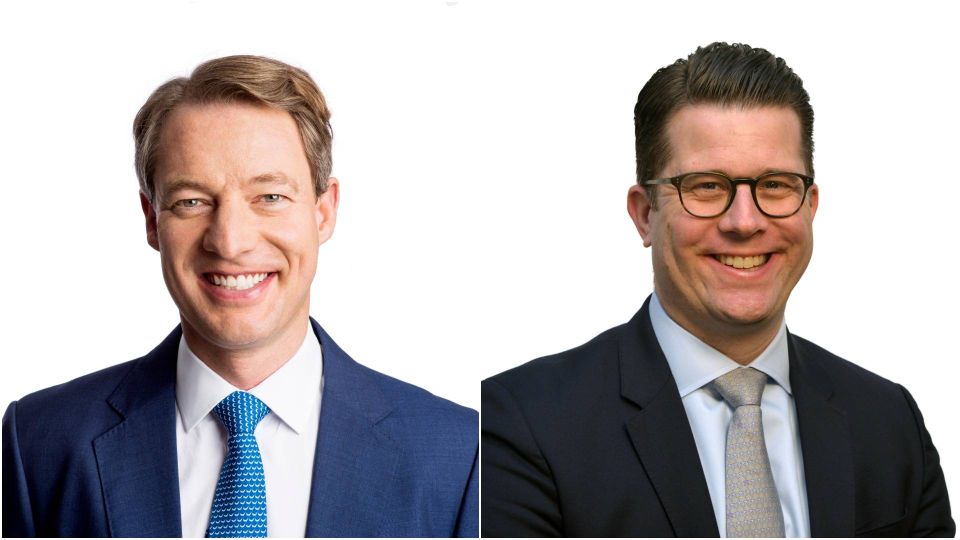 US-based asset management group Eaton Vance recently appointed Henrik Hoffmann-Fischer to spearhead a Nordic business push, based in London.
The hiring of the business developer was pretty straightforward, Managing Director and Head of International Distribution TJ Halbertsma tells AMWatch.
"I worked with Henrik while he was still at Kirstein [asset management consultancy, ed.], and I was very impressed with his level of knowledge of the asset management industry and the Nordic region in particular," he says to AMWatch.
It therefore didn't come as a surprise for Halbertsma when Hoffmann-Fischer decided to leave Kirstein in Copenhagen after eight years to pursue a career in asset management sales in London at Union Bancaire Privée, a Swiss-based asset and wealth manager, in June 2017.
"We kept in touch after he moved to London. The appointment of Henrik is a natural evolution of having people who are locals covering their specific markets, and we look forward to Henrik representing the Nordics as a whole," the former Nuveen and Man Group professional says.
The Nordic region was previously covered by Sebastian Vargas, who will transition to a new role covering the Netherlands and Southern Europe.
"The term solution is often used in asset management, but I truly believe that Eaton Vance is a company that thinks in terms of solutions. This is becoming increasingly important, because there is no one size fits all model in areas such as ESG,"
Unlocking potential
Halbertsma started at Eaton Vance in June 2016 and says the firm's non-US business has seen fine inflow over this period.
The current business scope outside the US home market is roughly EUR 26.7 billion (USD 28 billion) while the entire AUM pool is EUR 455.8 billion (USD 497.4 billion). The asset manager doesn't split the assets under management according to region. Halbertsma, however, says there is a "meaningful" number within the Nordics.
"Having said that, however, we do think that there is tremendous potential for us to grow further, which is why we hired Henrik," Halbertsma explains.
"We have a lot of confidence in his abilities to discuss specific strategies with clients and raise assets in the strategies we think are relevant for the region," he says, highlighting emerging market debt, systematic strategies and ESG-focused strategies.
Bespoke solutions
According to Hoffmann-Fischer, it is more important than ever to recognize clients' needs.
"The term solution is often used in asset management, but I truly believe that Eaton Vance is a company that thinks in terms of solutions. This is becoming increasingly important, because there is no one size fits all model in areas such as ESG," he says to AMWatch.
You say that you look at clients' specific needs. How do you investigate what a potential client's needs are before engaging?
"I have a fairly keen understanding of the different institutions around the Nordics and worked with these types of clients for many years. You do your desk research from home but through continuous dialogue with these institutions you get a pretty good sense of where they are going and what to engage with them about," he says.
He will try to frequently engage with the five Nordic markets, acknowledging that it would be impossible to do a proper job solely from his desk. "In my book, there's no substitute for being face-to-face with clients if you want to have proper relationships. My task is to be very active and available to these clients in any way that I can, whether via video conference or in a personal meeting," he says.
When asked what lured him to Eaton Vance, one of the immediate responses is the culture, which he describes as "quite unique".
What do you base this on?
"I worked with a number of asset managers for an extended period during my time on the consultancy side, and Eaton Vance always struck me as a company exhibiting strong values. The firm's culture is predicated on providing advanced investment strategies and wealth management solutions to forward-thinking investors around the world," Hoffmann-Fischer says.
Given your Danish heritage and your past at Kirstein, is that an indication that the Danish market will have most focus, at least in the beginning?
"No, I have been in London for almost three years now. I don't think that there will be a particular focus on the Danish market. What is more important is that I will focus broadly on institutional investors in the Nordics."
According to Halbertsma, however, Denmark deserves special mention, because the country's pension system is comparatively very advanced.
"This is not only in terms of how liabilities are managed but also the incorporation of ESG. We always keep an eye on what is happening in Denmark, because the country sets the trends for other parts of the world, and that is also one of the reasons why we are pleased to have Henrik onboard," he says.
Standing out from the crowd
One important aspect for Hoffmann-Fischer's aspiration to channel the Nordic business push to actual inflows, is what he considers to be a competitive advantage within the growing field of sustainable investing: ESG investing.
"ESG is broadly defined and no one size fits all clients' needs," he explains. "All investors need to work with someone like us who has a strong history of working in this area. Calvert Research and Management [an affiliate of Eaton Vance, ed.] is a company that has been doing this since 1976. We have a lot of experience working very closely with clients and catering to their specific needs," Hoffmann-Fischer says.

How is Eaton Vance different when it comes to sustainable investing compared to the majority of your peers? Many asset managers now claim to be ESG specialists.
"We stand out because we include consideration of ESG insights in our evaluation of investment opportunities or in the construction of the investment portfolios we manage. We focus on ESG criteria we consider to be financially material," says Halbertsma.
What do you mean by financially material?
"We define financially material ESG criteria as ESG risks or opportunities likely to affect the financial condition or performance of the issuer over a long-term horizon. We are active owners. And, while others solely focus on ESG within equities, we also focus on fixed income. For example, we have been investing in green bonds since 2011," says Halbertsma.
So if you are competing for a high-yield mandate with other asset managers claiming a unique approach to ESG investing in fixed income, how do you document that your approach is better?
"Just look at our track record, it is a lot longer than most of competitors can offer. We consider financially material ESG factors as we seek to enhance each portfolio's risk-return profile. This approach works especially well in fixed income to help clients manage their risk better than they would if they did not include ESG," the global distribution head says, adding:
"We are not claiming that we will be adding returns because we are integrating ESG but we do think it helps on the risk management side. That will lead to a much better risk-adjusted return."
Eaton Vance is a global asset manager founded in 1924 with offices in North America, Europe, Asia and Australia and listed on the New York Stock Exchange.